Elementor is a powerful WordPress plugin that allows you to create, manage, and host stunning websites. It covers everything from A-to-Z, making it the perfect tool for both beginners and experienced WordPress users. With Elementor, you can create beautiful websites in minutes, without coding or hiring a developer.
It covers all aspects of website creation. Plus, Elementor makes it easy to host your website on WordPress.com, making it the perfect platform for anyone looking to create a beautiful website. It does not matter how advanced or beginner you are; with Elementor, you can create beautiful, responsive websites.
Unlimited website development on just one platform.

For a variety of needs like landing pages, including eCommerce stores and business websites, you can build them with Elementor.

Drag and drop different resources and elements to create the perfect design.

A creative web design can be created by anyone, not merely a developer.

Elementor enables users to lay out and style pages with drag-and-drop in real time.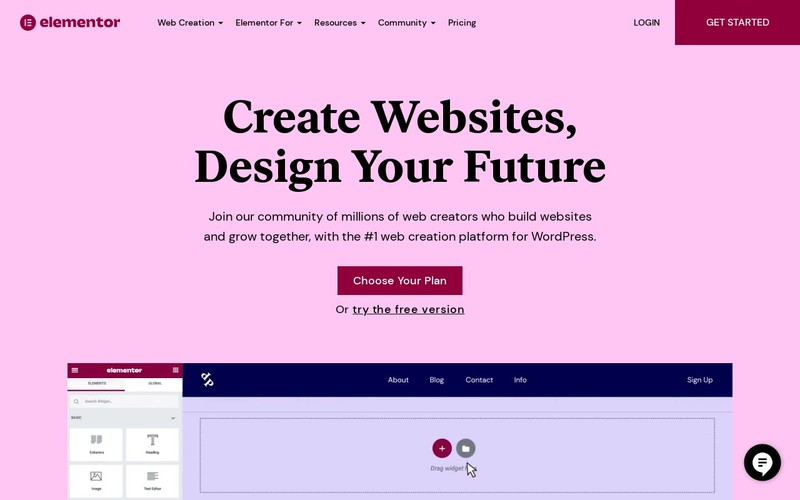 Benefits of Using Elementor
Faster Design: it helps you to build designs more quickly.

The user interface is the best. With Elementor, you can create a website in minutes, without having to code or hire a web designer.

Create a dynamic website. It is easy to use and has a wide range of features that make it perfect for creating dynamic websites.

Save time. If you don't want to build your own designs from scratch, Elementor has a selection of templates. It will save you time.

Easy to use, the UI is incredibly user-friendly. You don't have to be an expert to get started making your own site.

Easy customization. Elementor is a great way to easily customize your website. With Elementor, you can change the look and feel of your site without having to code. You can also use Elementor to create custom pages and posts.

Real-time preview so that you can see instantly.

Update regularly. Elementor is a great way to keep your website updated regularly. You can use Elementor to create new pages, posts, and sections on your website.

Individual views for desktop PC, mobile and tablet, MacBook

All the alignment settings are well so, everything you're under control.
Best for
The Casual User

Web Developer

The Digital Marketer

The Site Builder
Features at a glance
A visual editor allows you to design every part of your website content simply through drag-and-drop. No need for a single line or code.
300+ Designer Made Templates:

Choose a carefully-crafted template created specially for every industry and purpose.

Responsive Editing:

Customize your website for every operating device and make as few adjustments as possible to accommodate up to 7 devices.

Live Editing:

Build your website in real time as you watch it.

Elementor & WordPress:

The widget, ranging from size to appearance, is absolutely customizable.

Site Settings:

Control all global elements of your website from one convenient place – including site identity, light box settings, layout, and theme styles.

Global Editing:

Design your website as a whole, beginning with the header, footer, and material. The global widgets, colors, and fonts can be reused anywhere on your website.

User Preferences:

Select the Editor's Panel tab to add your most utilized widgets to the Favorites section.

Mark Widgets as Favorites:

The Editor's Panel offers personalized versatility by adding your favorite widgets to the 'Favorites' control area.

Dark Mode:

Design in dark areas to save money by utilizing Elementor's Dark Mode feature, as well as it's great for the environment.

Navigator:

You can view your custom changes in all page elements or layers, navigate between any changes you've made, and access changes in an easy-to-understand format using indicators.

Finder:

Quickly move from one dashboard to another and between different pages and settings using the search-bar finder. This saves you time.

Inline editing:

You can use the responsive text editing feature without having to exit Live at the edit time. This enables you to compose blog posts and edit existing material.

Header and footer editor:

The easy editing of your site's header and footer using Elementor is painless. You are able to visually edit them sans code.

Translation and RTL Ready:

The plugin is distributed in over 23 languages and can be translated into other languages relatively easily. It fully supports RTL languages.

Global colors and typography:

You can set globally consistent colors and typography throughout your website to have a consistent dive into all its pages.

Extensive typography options:

To add 800 Google font styles or create your own type kit forms and have them on your website, make use of them on your website.

Third-party integrations:

The plugin supports integrations including MailChimp, Drip, ActiveCampaign, and others.

Maintenance mode:

You can use Elementor's beautiful coming soon and maintenance mode templates to set up Elementor's maintenance mode.

eCommerce widgets:

Custom WordPress widgets can be integrated into eCommerce pages through pricing tables and price list inserts.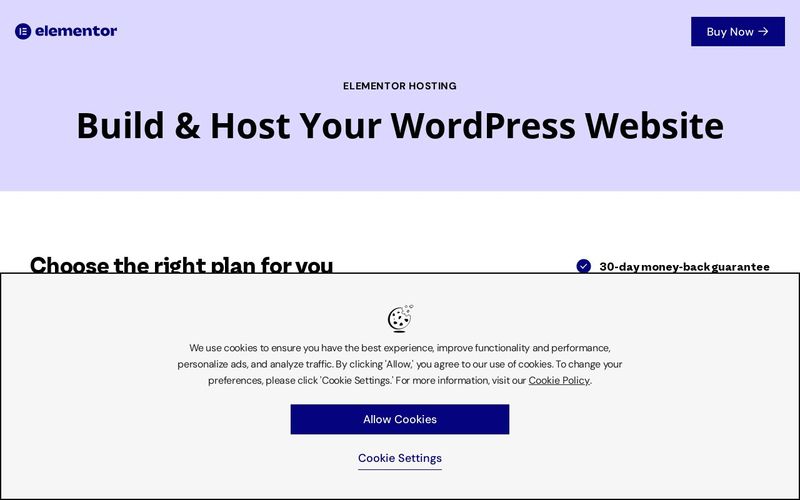 Top 9 Elementor Alternatives & Competitors
Gutenberg

Divi
Beaver Builder
Thrive Architect
Oxyzen Builder
Visual Composer
Zion Builder
WPBakery Page Builder

Brizy
Learn the Secrets of What's Inside?
60+Widget for Design: Elementor has a huge choice of widgets, which gives you flexibility when creating your designs.
Basic to standard: Elementor has the facility to start from the very beginning — you can do a lot from basic to advanced.
Theme Builder With Dynamic Content: With Elementor Pro, you can build an entire WordPress theme with Elementor.
WooCommerce Builder: You can also add Elementor theme builder widgets to your eCommerce site with the WooCommerce Builder plugin.
Popup Builder: Elementor Professional can do theme design. It can be used to create popups also.
Simply the best: Most complex adjustments can be programmed through the widget menu without requiring any coding knowledge.
All kinds of possibilities: It is specially simple for a person who does not fully grasp the HTML programming of WordPress. There are many third-party plugins that make it even better.
Music career website: It must have a website that accurately reflects and protects your music.
In conclusion, Elementor is an amazing tool that allows you to create, manage and host amazing websites which cover A-to-Z for WordPress. Whether you are a beginner web designer or a regular user, Elementor will have something amazing for you and makes that possible with its user-friendly unique features and useful interface. Why not start using it? Go check it out!